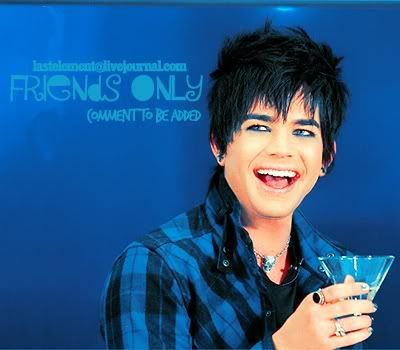 Comment if you wanna add me =) I promise you I'll add you back


Okay... so here it goes (LOL)
Likes:

Music: 30 Seconds to Mars, The All-American Rejects, The Used, AFI, Nelly Furtado, Pink, Gwen Stefani, Good Charlotte, t.A.T.u., Simple Plan, Fall Out Boy, Hellogoodbye, Blink 182, Linkin Park, (+44), Avril Lavigne, Panic At The Disco, Cobra Starship, Paramore, Cute Is What We Aim For, A Cursive Memory, Gym Class Heroes, The Sounds, Angels & Airwaves, Jonas Brothers, Alizée, Madonna, Justin Timberlake, Timbaland, The Last Goodnight, Leona Lewis, Natasha Bedingfield, Coldplay, We The Kings, Switchfoot, Collective Soul, Our Lady Peace.
American Idol Related: Adam Lambert, Kris Allen, David Cook, David Archuleta, Allison Iraheta, Michael Johns, Jason Castro, Syesha Mercado, Brooke White, Carly Smithson, Chris Daughtry, Katharine McPhee, Kelly Clarkson, Carrie Underwood, Elliott Yamin, Blake Lewis, Fantasia Barrino, Chris Richardson, Jennifer Hudson, Mandisa, Ace Young, Gina Glocksen, Melinda Doolittle.

Actors/Actresses: Jared Leto, Cameron Diaz, Johnny Deep, Hilary Duff, Daniel Radcliffe, Gerard Butler, Claire Danes, Diane Kruger, Nicolas Cage, Heath Ledger, Colin Farrell, Ashton Kutcher, Tom Felton, Gary Oldman, Natalia Tena, Orlando Bloom, Leighton Meester, Blake Lively, Chace Crawford, Robert Pattinson, Kristen Stewart, Jennifer Aniston, Katherine Heigl, Helena Bonham Carter, Ed Westwick, Keira Knightley,Shia LeBeouf, Penn Badgley, Robert Pattinson, Jack Black, Matt Damon, American Ferrera, Owen Wilson, Matthew McConaughey, Ashley Jensen, Vanessa Williams, Eric Mabius, Christina Applegate, Kate Hudson, Salma Hayek, Jim Sturgess, Evan Rachel Wood, Emma Watson, Clèmence Poèsy, Alan Rickman, Matthew Fox.

Movies: Harry Potter, Alexander, Requiem For A Dream, Lonely Hearts, Lord Of War, Panic Room, Girl Interrupted, Urban Legend, Switchback, Pirates Of The Caribbean, Atonement, Across The Universe, December Boys, Twilight, Vantage Point

T.V: Gossip Girl, American Idol, Grey's Anatomy, Deseperate Housewives, Dancing With The Stars, The Hills, Samantha Who?, Pushing Daisies, Ugly Betty, 90210, One Tree Hill, Melrose Place

Models: Audrey Kitching, Gisele Bündchen.

Basics: 18. El Salvador. Bisexual. Rock. Punk. Harry Potter Lover. American Idol Lover. Loves Writing. Loves Reading. Photoshop. Music. Rock. Movies. Slash. Guitar. Gossip Girl. American Idol. TV. Friendly. Bitchy (sometimes). Laughs a lot.

Dislikes:
(the list is smaller here lol)

Miley Cyrus. Jonas Brothers. Heidi Montag. Spencer Pratt. Ashlee Simpson. High School Musical. Homofobics. Camp Rock (and related). My Chemical Romance. Posers. Vegetables. Noisy Neighbours, Vanessa Hudgens, Zac Efron. Danny Gokey.
If you have something in common and would like to add me, comment here first, add me and well i'll add you back as quickly as possible
Mood:
grateful
Music: Camisado - Panic! At The Disco